Learn how customers view your site,

no code snippet required.
Our predictive eye-tracking technology tells you where customers are directing their attention, so you can design and market accordingly.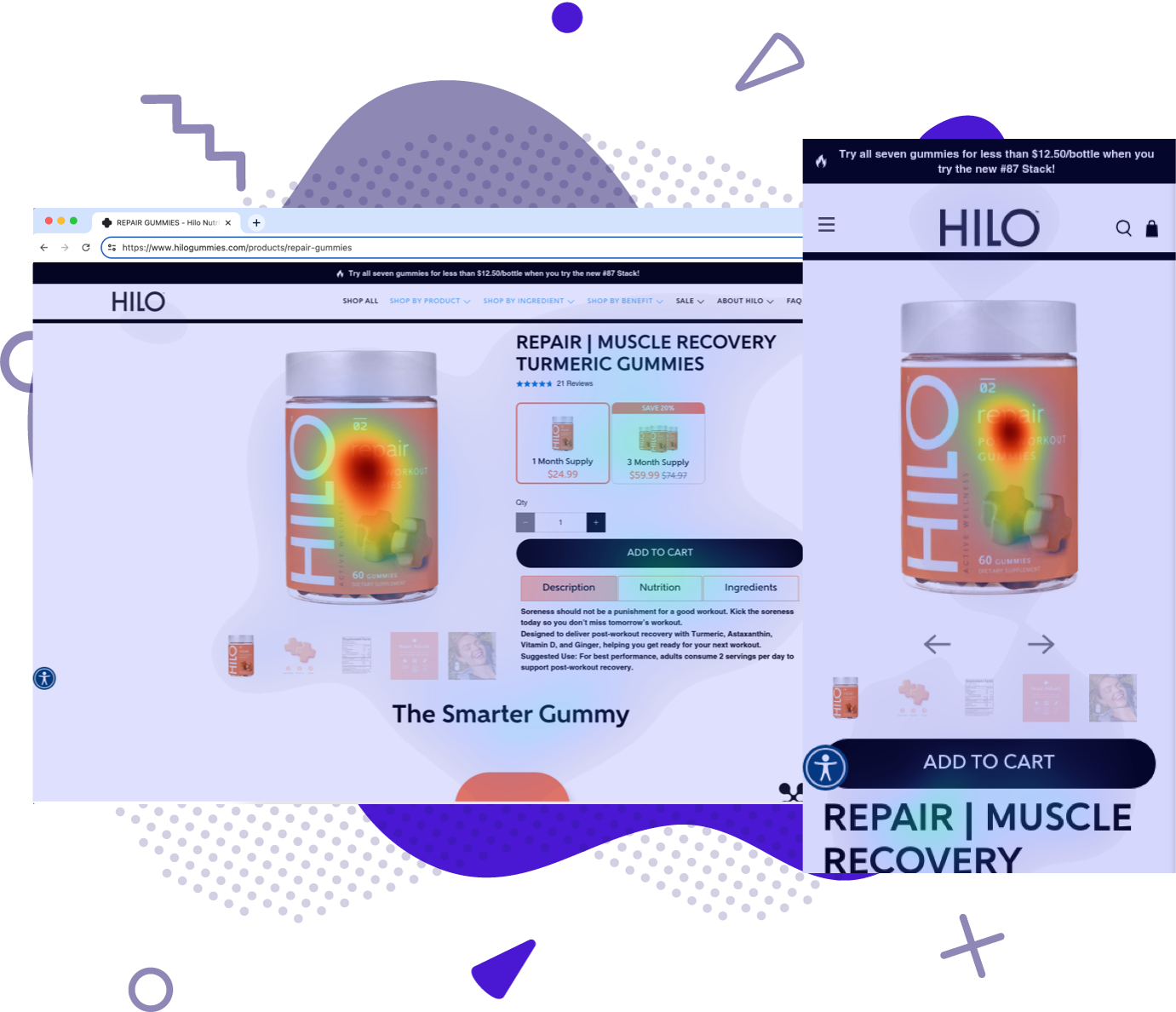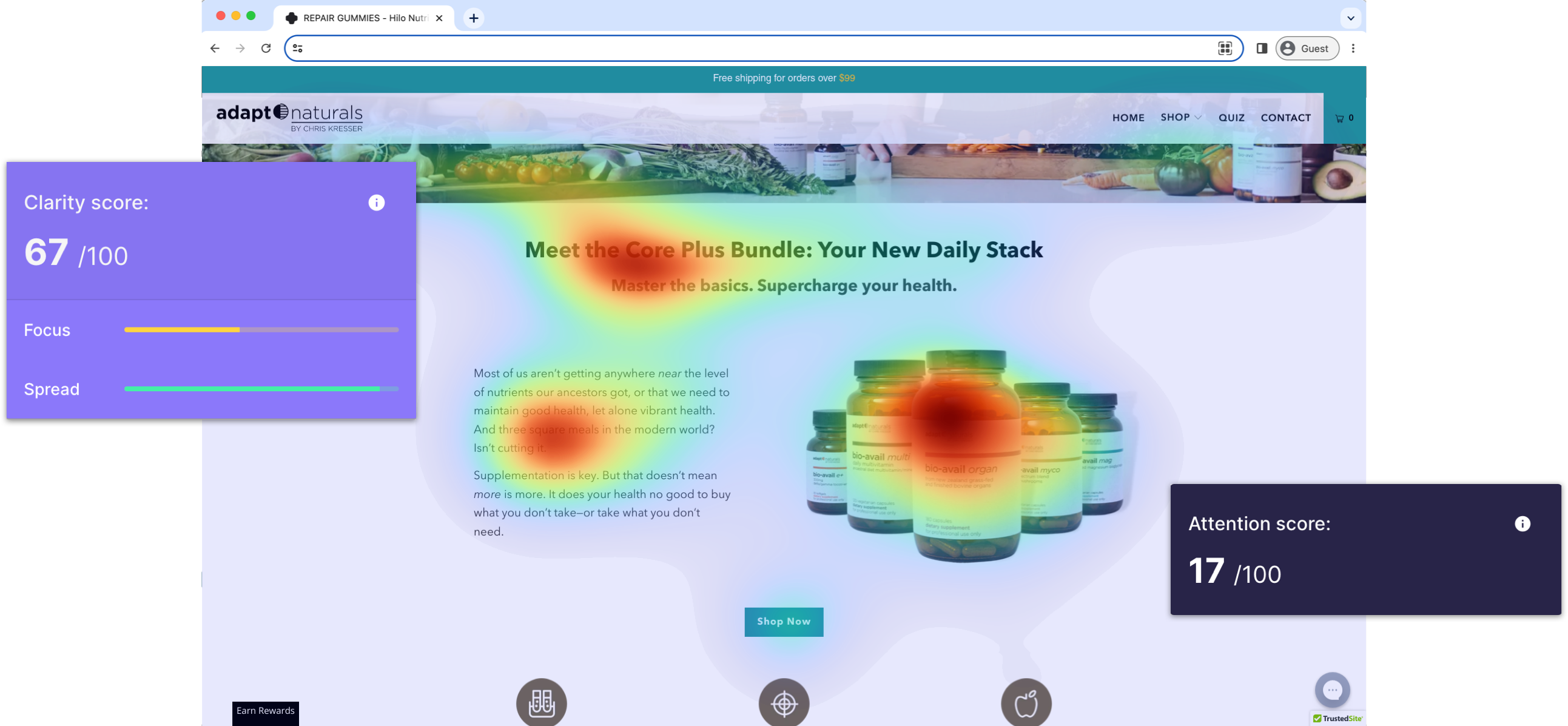 Advantages of our predictive eye-tracking heatmaps technology:
Credible – Developed from 10,000+ live eye-tracking sessions
Reliable – 94% accuracy compared to human testing
Fast – Near-instant results instead of waiting weeks
Affordable – Available at a fraction of the cost of live testing
Convenient – No code snippets or integrations required
Headache-Free – No recruiting, scheduling, or staffing needed
Here are a few of our favorite use cases for heatmapping…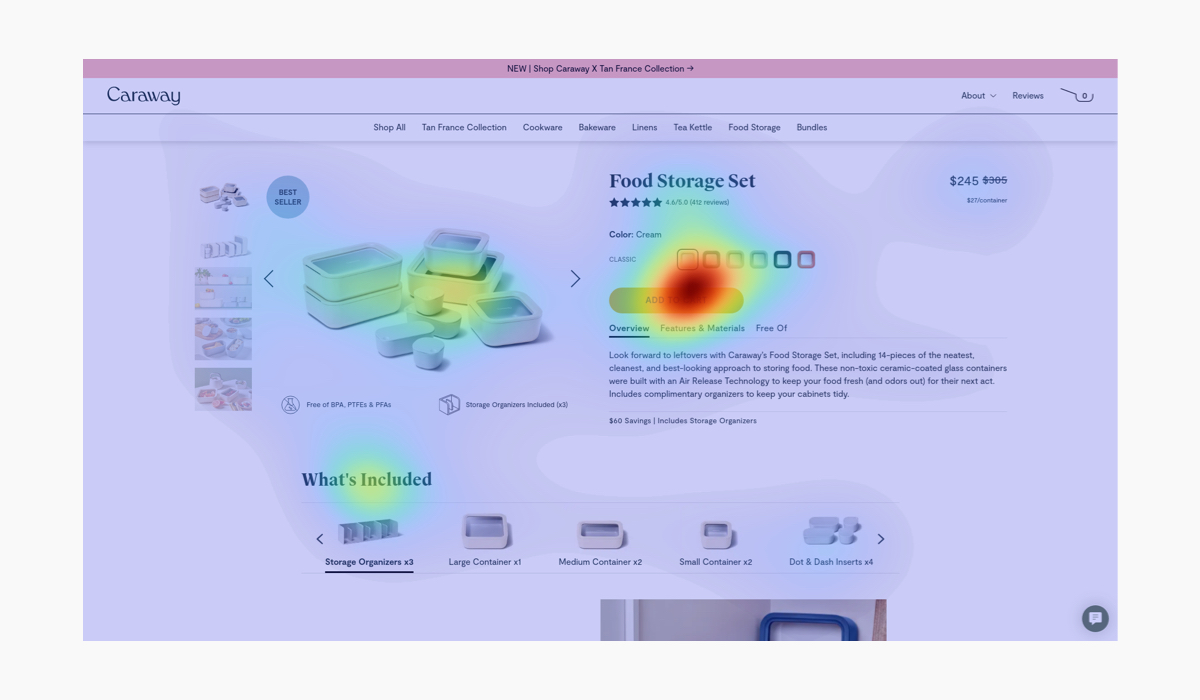 Product Page Analysis
Direct shopper attention to the information most likely to close the sale.
Pre-testing Ad Creative
Figure out which variant is most likely to perform well, before spending money.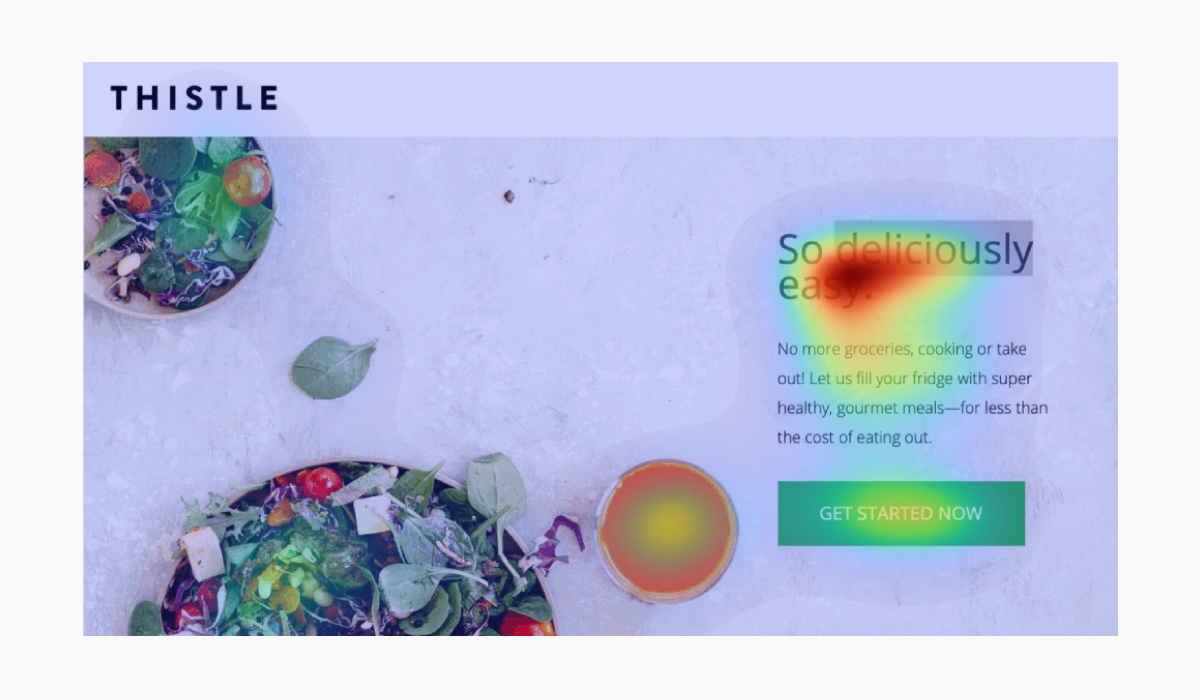 Landing Page Analysis
Paying for ad traffic? Make sure that attention is going to the best content.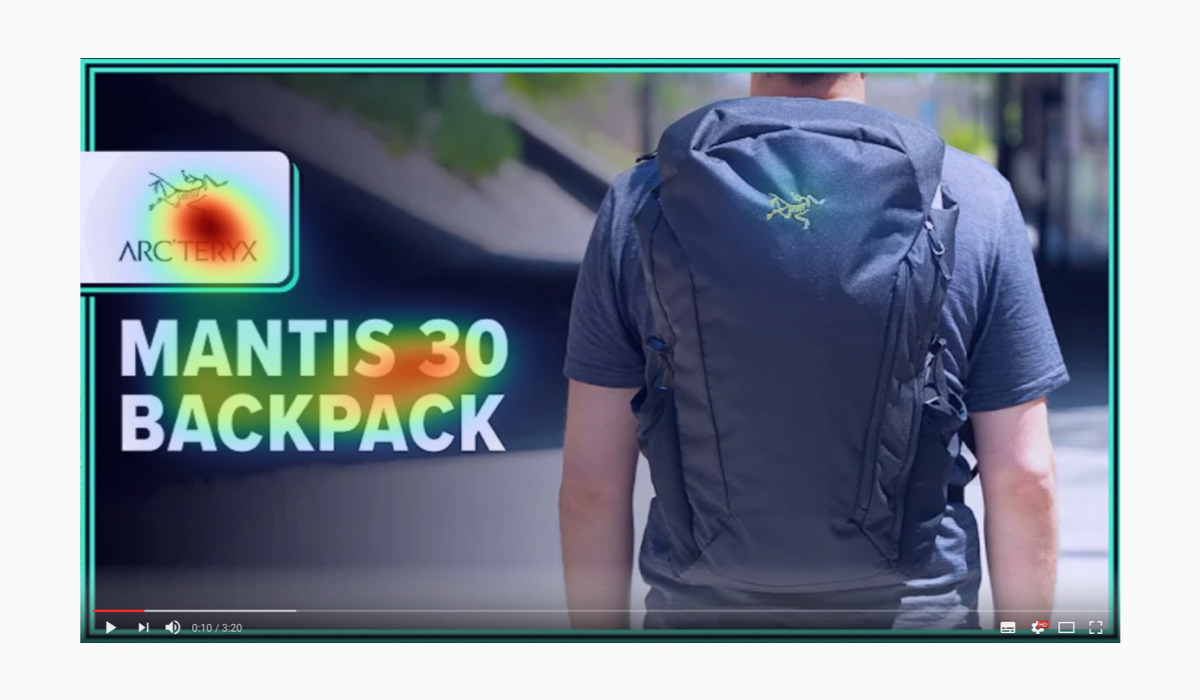 Thumbnail Analysis
Test which thumbnail is most likely to earn a click for you or your partners.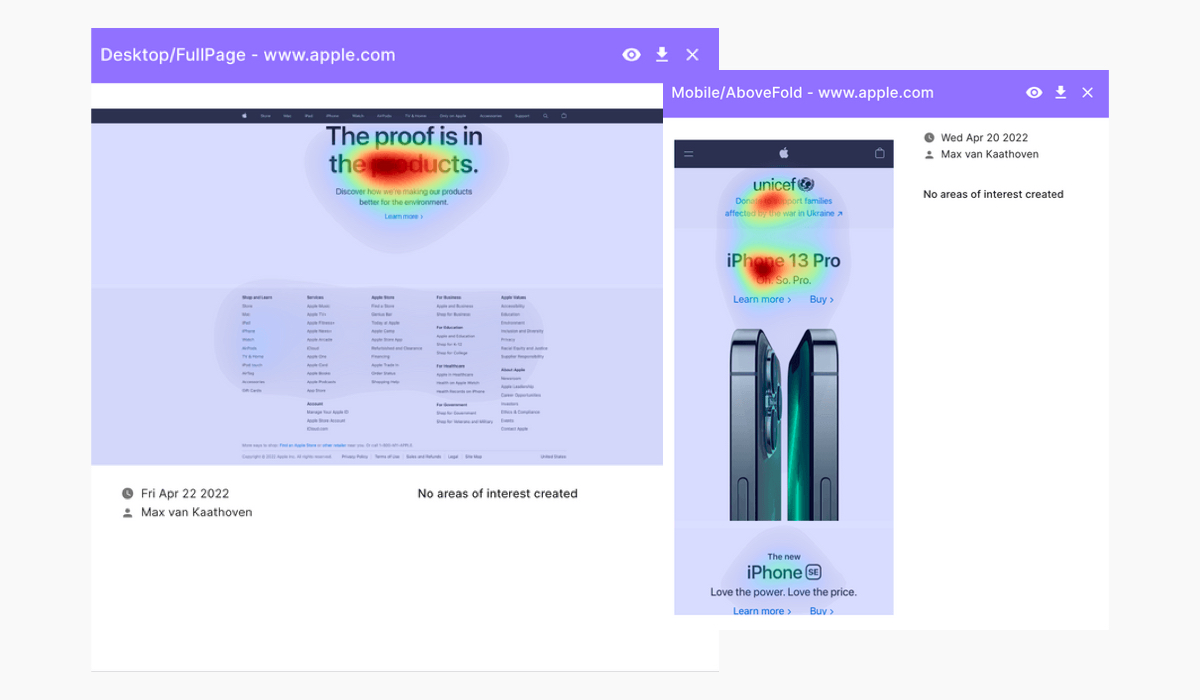 Mobile Site Analysis
Hide unnecessary content on small devices, so customers get what they want faster.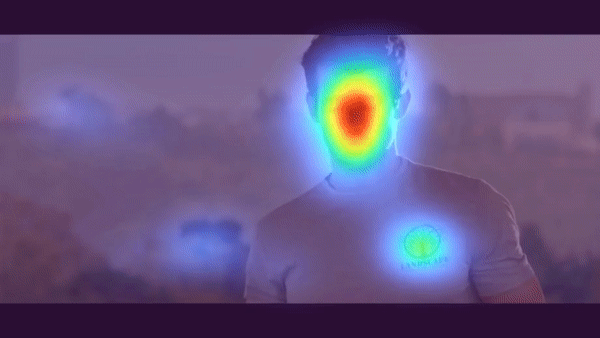 Video Analysis
Make sure viewers are paying attention to the right spots in your marketing videos.
Create fast, reliable, and affordable heatmaps

that help you increase sales.
Don't stress about recruiting participants, facilitating live sessions, or expensive software. Just spend 60 seconds filling out a project brief and get results back in 48 hours or less.
$49

Ideal for analyzing one page, one video, or one set of ad variants.
Assistance with project design
1 Page/Video/Ad Set
1-2 business day turnaround
Quality assurance checks
Free email support
100% satisfaction guarantee
$149

Perfect for testing an entire checkout flow, campaign, or ad set.
Assistance with project design
3 Pages/Videos/Ad Sets
1-3 business day turnaround
Quality assurance checks
Free email support
100% satisfaction guarantee
$199

Great for brands with larger sites or multiple ad campaigns.
Assistance with project design
5 Pages/Videos/Ad Sets
2-4 business day turnaround
Quality assurance checks
Free email support
100% satisfaction guarantee
Have a ton of pages, images, or videos to analyze?
We're able to set up bulk orders or monthly subscriptions to meet any needs.
Reach out to hello@userinput.io to receive a custom estimate.
"We found it very useful to get a fresh perspective on our site and get over our snow-blindness from looking at it ourselves so much!"
"UserInput saves us time in gathering feedback from a targeted user-type.
We're able to get quick input from readers that are unfamiliar with our product – an important indicator of how effectively we communicate our value."
"UserInput gave us the ability to learn from strangers what they felt and learned heading to our site for the first time.
The UI team found the perfect group of reviewers and delivered it quickly and professionally. Highly recommended!"
Learn how to build a high-performing ecommerce site.
Join 1,000+ savvy business leaders who use our guides to build delightful customer experiences and accelerate their growth.