It seems like podcasts are everywhere these days. Probably because they are. The cool thing about them is they offer you the ability to mine sage wisdom and amazing biz advice from some really smart people, for free.
Even better, you can listen in pretty much any time, any place; even while you're on the go. Listen while driving, running, hitting the gym, mowing the lawn, cleaning the house… you get the idea.
UX design podcasts in particular can be extremely helpful in the world of UX, where things are constantly changing, and you need to stay on top of all the new innovations and ideas happening, but don't have much time or brain power for reading.
However, figuring out which ones are worth listening to can be a big time suck. You might find yourself wading through some sludge before you find the diamonds. So, we've uncovered the diamonds for you. Below are just a few of the best UX podcasts we could find. Pop in the earbuds and tune in.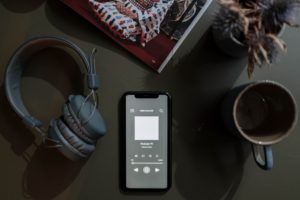 Photo by cottonbro studio from Pexels: https://www.pexels.com/photo/overhead-shot-of-a-cellphone-between-a-mug-and-headphones-6686442/ UX Podcast Pro Tip: Speed up the timing as you listen to get through a podcast faster, while still absorbing all that valuable knowledge. You could also skim the transcripts if they have them available and you prefer to read.

Design Matters Podcast
BoagWorld Podcast
UX Podcast
Design Details Podcast
ShopTalk Show Podcast
UI Breakfast Podcast
Hacking UI Podcast

G.O.A.T. UX Design Podcasts

Listen to the latest episode here: NYT Best Selling Author James Clear

Design Matters with Debbie Millman premiered way back in February 2005, and is said to be the very first podcast about that talks about design (along with the broader world of creative culture, according to their website). As such, it's also the longest-running podcast in the design space. You can tune in straight from their website, or on iTunes and Soundcloud.

We consider this podcast a great option if you're looking for something more inspirational and thought-provoking, not necessarily nuts and bolts. This podcast covers topics like creativity and innovation through conversations with some of the top designers in the industry. It's a great way to gain insight into how experienced designers approach problems and come up with innovative solutions that can help shape your own designs and processes.

Listen to their very last episode here: Beginner's Guide to Becoming a Good UX Designer

Boagworld is another one of the longest-running UX design podcasts out there and was hosted by Paul Boag and Marcus Lillington. They started in August 2005, and recently ended their run in 2021, but you can still access the Boagworld archives and bone up on a ton of UX design tips and tricks.

This popular podcast focuses more on practical advice than theory, which makes it perfect for those who want to take actionable steps toward improving their UX designs. They cover everything from usability testing to content strategy, so no matter what your level or area of expertise is, this podcast has something for everyone.

Listen to their most recent episode here: Articulating Design Decisions

UX Podcast (aptly named, don't you think?) is one of the longest-running UX design podcasts out there, launched in May of 2011. Hosted by Per Axbom and James Royal-Lawson, this podcast covers a range of topics related to user experience design, from interviews with industry experts to discussions about current trends and best practices. It's a great place to get a comprehensive overview of what's going on in the world of UX.

Of course, what's better than their own words? According to their own website, the UX Podcast is for:

"People passionate about balancing business, technology, people, and society within the realm of digital media. We hope to move the conversation beyond the traditional realm of User Experience.

It's not just for UXers, it's for everyone with a foot in the digital door. Sometimes we'll shoot high, sometimes we'll shoot low. Nevertheless, we aim to spread knowledge and break down silos."

You can listen to this podcast on all the popular platforms, as well as on their website.

Most Humorous UX Design Podcasts

Listen to their most recent episode here: Designing Hefty Interfaces

Design Details was launched in 2014 and is one of the most popular podcasts out there that covers all things design related from both a creative and business standpoint, with a dash of humor.

Hosted by Bryn Jackson and Brian Lovin this podcast features in-depth interviews with some of the world's leading UX designers, and people who work at some of the biggest tech companies in the world, including Google, Microsoft, Facebook, Adobe, Shopify and more.

Each episode delves into the guest's design process and approach to problem-solving, offering listeners a behind-the-scenes look at how top designers think and work. In addition to interviews, they also feature occasional round table discussions on specific topics related to UX design.

You can tune in on all the major podcast platforms or straight from their website. Whether you're a seasoned designer or just getting started in the field, it's a great resource for anyone interested in learning more about UX design.

Listen to the latest episode here: Zach Leatherman on Eleventy, Mastodon, Twitter, and is-land

If you're looking for a UX design podcast that's both informative and entertaining, look no further than ShopTalk. It premiered in January 2012, and boasts weekly episodes all about front-end web development.

Hosts Chris Coyier and Dave Rupert chat with a variety of UX designers from all walks of life, covering everything from the latest trends to the day-to-day challenges of the job. Whether you're a UX designer yourself or just curious about the field, ShopTalk is a must-listen. You can tune in on iTunes or Spotify as well as straight from their website.

UX Podcast Gems

Listen to the latest episode here: Building a Content Strategy Practice

Launched in October of 2014, the UI Breakfast Podcast is a great resource for anyone interested in UX design. In each episode, host Joel Marsh interviews a different UX expert, covering topics like user research, design thinking, and product strategy.

The podcast is casual and conversational, making it easy to listen to even if you're not familiar with the technical terms used in UX design. And because it's updated regularly, you can always stay up-to-date on the latest UX trends. So, whether you're a seasoned UX designer or just getting started in the field, the UI Breakfast podcast episodes is definitely worth checking out!

Listen to the latest episode here: Love What You Do, Take Massive Action, and Prosper

Launched in November of 2015, the Hacking UI is a podcast all about the user experience. In each episode, host Bill Burr and Steve Johnson explore a different topic related to UX design, from the basics of user research to more advanced topics like design sprints and internationalization.

In addition to interviews with UX experts, the podcast also features round table discussions and case studies. Though the episodes occur somewhat few and far between, they are meaty, and there are plenty in the archives to keep you busy for a while. So, whether you're a seasoned UX designer or just starting out, you're sure to find something of interest in this insightful and engaging podcast.

That about sums it up. 7 of the best UX podcasts you must listen to, starting now, if your goal is to level up your business and put forth your A game. In our humble opinion, of course.

If you found this a useful read, be sure to join our newsletter so you don't miss out in the future.